Thirdfort and SpineLegal partner to help lawyers tackle compliance risk
Published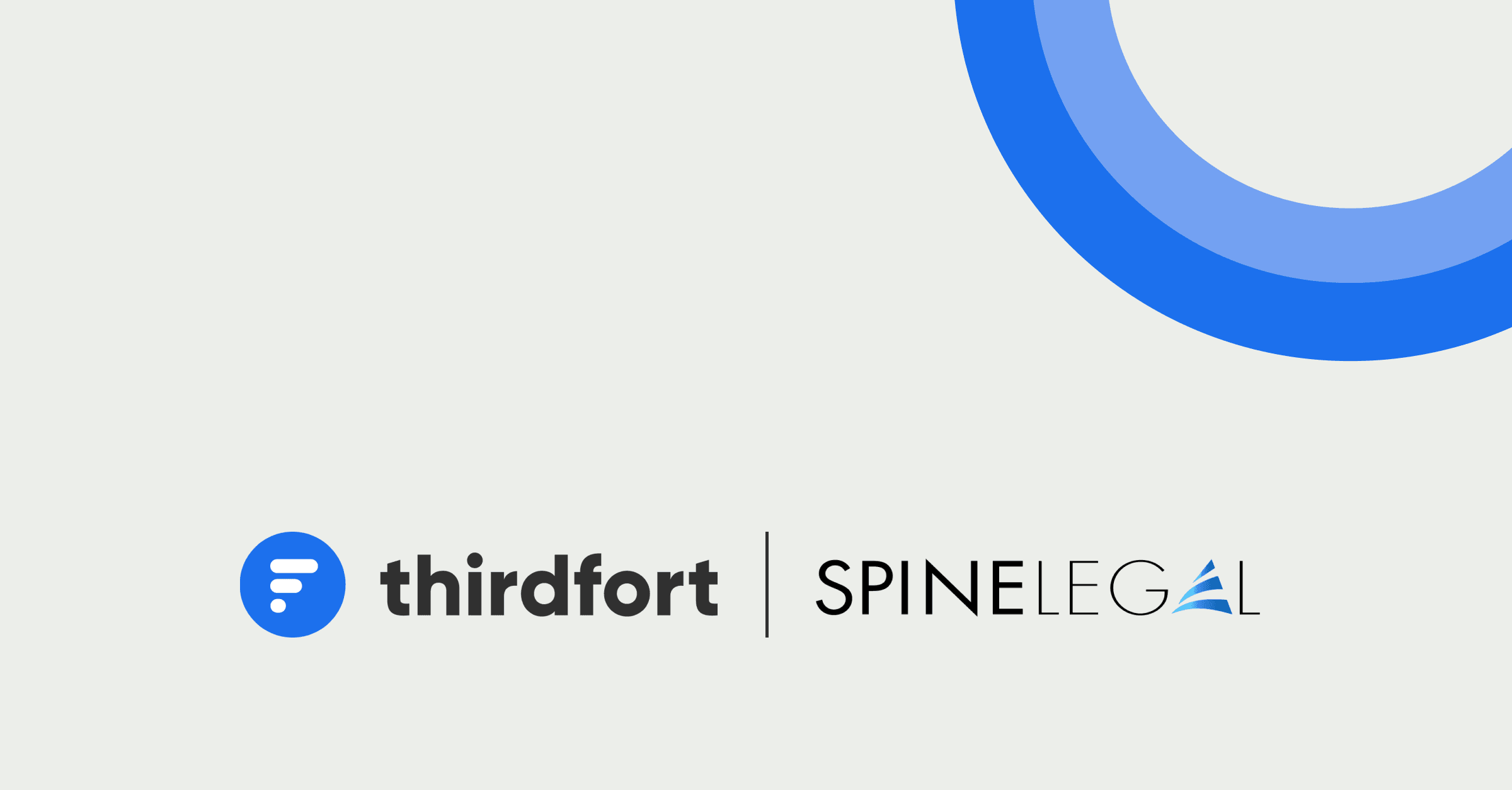 Risk management platform Thirdfort is partnering with legal software platform SpineLegal as the firm ramps up its partnership strategy. The integration allows SpineLegal's legal professionals to conduct Know Your Client (KYC), Anti-Money-Laundering (AML) and Source-of-Funds (SoF) verification within the SpineLegal platform, powered by Thirdfort's market-leading technology.
The integration with SpineLegal is another legal platform integration for Thirdfort. The move helps Thirdfort better support legal professionals as they tackle the growing fraud and compliance burden. The seamless integration between the two platforms allows legal firms to manage all aspects of their cases in one place, removing the need to bolt on additional pieces of software. In addition, with the Thirdfort integration, SpineLegal's clients can be sure they are compliant and are dealing with genuine individuals.
Thirdfort's proprietary risk engine identifies fraud and money laundering risk faster, smoother, and more accurately than manual verification. The risk engine is powered by best-in-class KYC and AML services alongside Open Banking and transaction specific data.
SpineLegal is an innovative legal software platform that combines case management, practice management, legal accounting, and a client portal. The company uses world-class technology and innovation to help law firms increase efficiency and boost profitability.
Integration-first
Thirdfort will focus on two areas as part of its integration strategy. It will develop technology-led integrations via its API with other tech platforms in the legal and property markets. It will also continue to build out referral partnerships, which will play a key role in developing solutions for managing KYC, AML and SoF risks. The strategy builds upon Thirdfort's goal of becoming an integration-first platform that helps protect life's big transactions.
Matt Berry, Head of Partnerships at Thirdfort, said: "Integrations are a key part of our growth strategy at Thirdfort. By partnering with innovative legal and estate agency software providers such as SpineLegal we can enhance the value of both platforms. Our partnership enables SpineLegal's law firm users to benefit from our market-leading platform and progress cases, secure in the knowledge they are compliant and are dealing with genuine individuals.
"Moving forward, we're focused on building a strong ecosystem of partners to ensure we can help as many professionals as possible. We'll also continue to develop unique propositions for legal and property professionals looking to better manage fraud and money laundering risk."
Manoj Thomas, Founder and Director of SpineLegal, said: "Our partnership with Thirdfort adds a new and unique value proposition for our legal clients, giving them the ability to complete ID, AML and Source of Funds checks with one click. The integration means our users will get easy-to-read PDF results and reports as soon as a check is complete, which will further the operational efficiencies our platform provides to our clients."
As part of this partnership, Thirdfort is offering free checks to existing SpineLegal clients who choose to use Thirdfort. SpineLegal is also offering a 50% discount on all licensing costs for existing Thirdfort clients that decide to use SpineLegal.
Thirdfort Promotion
Are you a SpineLegal client and would like to try Thirdfort for your firm, for free? From 7th March 2022 to 15th April 2022, new clients via SpineLegal can now sign up for 25 free uses of Thirdfort's verification solutions.

Take your pick from any combination of Standard ID, Thirdfort Original ID, or Source of Funds checks. Simply complete your 25 free checks via SpineLegal before 31st May 2022 to discover how Thirdfort streamlines your compliance obligations.

If you're an existing SpineLegal client and would like to know more about this promotion, please speak to your SpineLegal contact.
SpineLegal Promotion
For all new SpineLegal customers who sign up via Thirdfort, SpineLegal is offering a 20% lifelong discount on the licence cost.
The prerequisites for this discount are the client has to be a Thirdfort customer and is willing to integrate into the Thirdfort services via the SpineLegal platform.
If you are an existing Thirdfort client and interested in this promotion, please speak to your point of contact at Thirdfort.
Subscribe to our newsletter
Subscribe to our monthly newsletter for recaps and recordings of our webinars, invitations for upcoming events and curated industry news. We'll also send our guide to Digital ID Verification as a welcome gift.
Our Privacy Policy sets out how the personal data collected from you will be processed by us.