Introducing Company Checks: Quick, correct and compliant
Published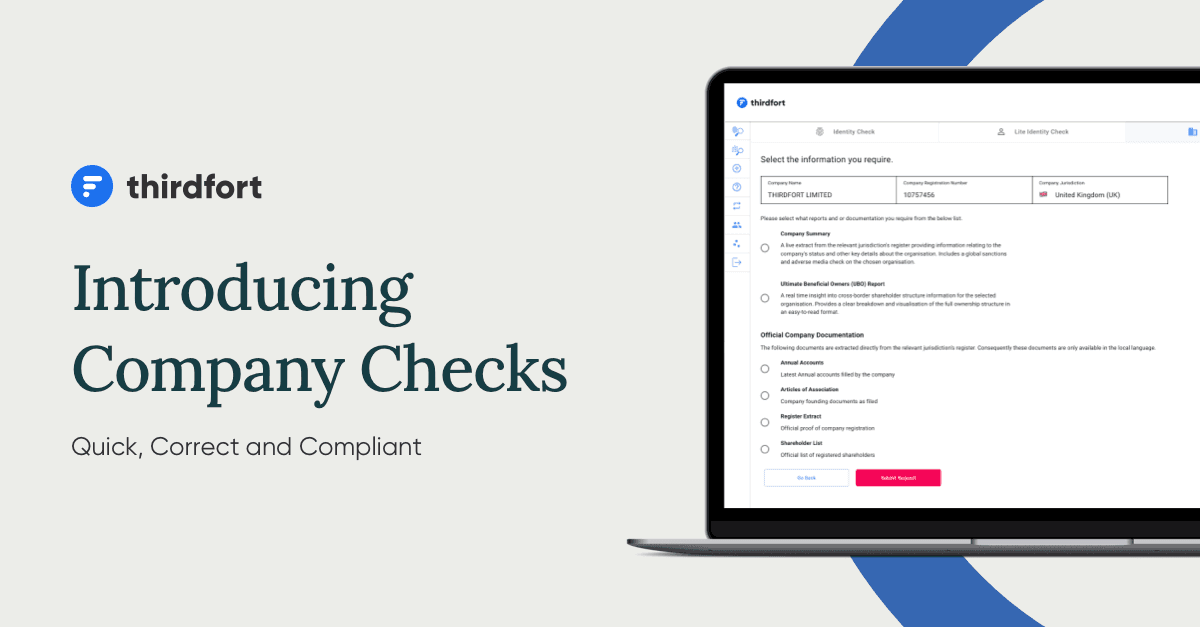 Complete your due diligence on UK and international businesses with the latest update to your Thirdfort platform - Company Checks. All the security and AML compliance you've come to expect from Thirdfort, now available for company checks.
Keeping up to date with ever-changing AML regulations can be a headache. But with serious fines and penalties for missteps, it's one responsibility your business cannot afford to ignore.
Whether you're running checks on individuals or companies, client due diligence is a real time sink. And dragging your team away from what they do best means lost productivity and earnings.
Today we're launching Company Checks on Thirdfort to give you back that time, and peace of mind. We've applied everything we've learned from creating our signature Thirdfort ID checks to offer you the most sophisticated AML Company Check on the market.
Here's what makes them special:
They're live. All data you access in every check is drawn directly from primary sources. No reliance on static libraries that could be out of date. Just real-time access to company filings from government registers around the world.

They're fast. From request to final report, complete your checks in minutes. Get results in one clear report, ready to be exported for audit-proof compliance. Then get back to business.

They're comprehensive. Whether in the UK or abroad, verify your corporate clients wherever they're based. Sanctions, adverse media screening, and Ultimate Beneficial Owner (UBO) discovery all included in line with 6th EU AML directive.
Interested to see how Company Checks can work for you? Aoibhinn from our Customer Success team will walk you through it below:
For some further reading and a little more detail on how Thirdfort Company Checks work, take a look over our 2-page explainer here.
Questions? Queries? You may have a few. Drop a line to your Customer Success Manager today for a run-through, or contact us directly - [email protected]
*For all Thirdfort partners, Company Checks will be available in the coming months. For more information, get in touch with your Thirdfort support contact.
Subscribe to our newsletter
Subscribe to our monthly newsletter for recaps and recordings of our webinars, invitations for upcoming events and curated industry news. We'll also send our guide to Digital ID Verification as a welcome gift.
Our Privacy Policy sets out how the personal data collected from you will be processed by us.