Webinar: How are lenders adjusting to COVID-19?
Published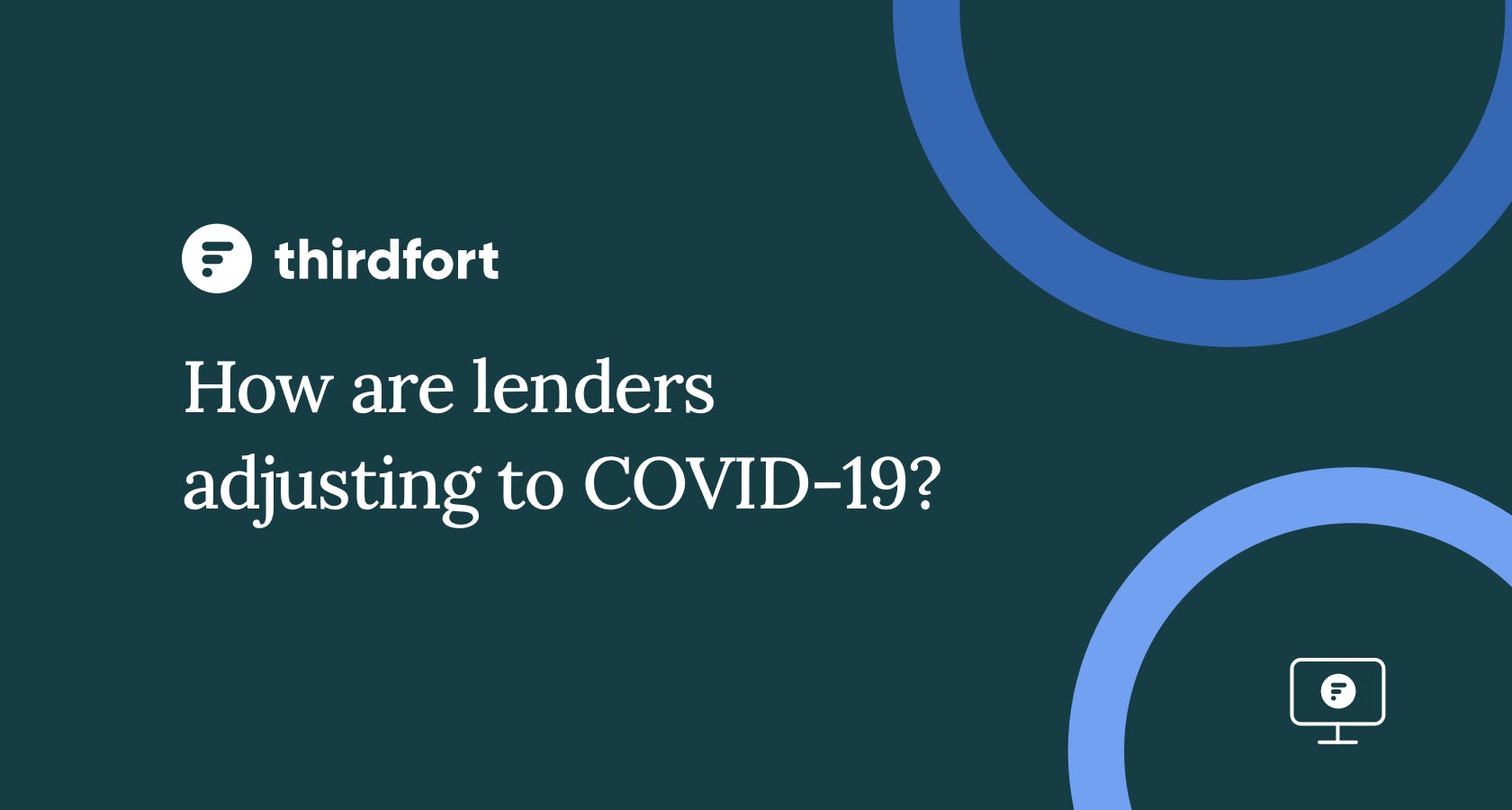 As the UK enters its seventh week of lockdown, colleagues in all areas of the property market are finding themselves impacted by the government's restrictions. While the market has been frozen in the midst of the pandemic, this does not necessarily mean a let up in business for conveyancers and mortgage lenders alike. In the most recent instalment of our Webinar Series, Thirdfort's Olly Thornton-Berry spoke with Nationwide's Head of Risk Rob Stevens to find out what mortgage lending looks like in the course of COVID-19.  
In the wake of the lockdown, adjusting to remote working has been one of the biggest challenges faced by Nationwide says Rob, simply due to the logistics of facilitating such a sudden change and providing laptop access for their colleagues. In reaction to COVID-19, Nationwide are prioritising the safety of their workforce, while facilitating new lending and maintaining their current patronage. But what steps are they implementing to ensure these goals are met?  
As is to be expected, technology is key in Nationwide's strategy. The pace of COVID-19has meant that existing processes have had to be made more scalable, and this has meant digitalisation. For example, Rob explains that the process of application for Payment Holidays, traditionally done over-the-phone, has now been moved online to streamline the procedure as much as possible. While not all processes can be updated immediately, the current climate can be seen as a positive opportunity for innovation and to update existing ways of doing things, says Rob. A recurring theme in our webinars, it appears that COVID-19is a driving factor in law firms, building societies and colleagues in all areas of the property sphere beginning to introduce more tech to their business. From implementing apps that provide photos of a property's interior to aid in the valuation process, to embracing the use of E-signatures, Rob makes it clear that technology has the potential to lower risk while allowing Nationwide to continue to provide their products to customers.  
Another recurring theme in our Webinar series is that of communication- something Rob emphasises is key in staying compliant and remaining positive in the current climate. Keeping solid lines of communication with the Law Society and Conveyancers'Association has been a priority for Nationwide, says Rob. Updates have been made to Nationwide's finance handbook, and Rob stresses the importance of reading and distributing comms to colleagues in the midst of the pandemic. Notably, when mentioning the HM Land Registry, Rob speaks of a proactive approach to digitalisation from a famously paper-based department, which again highlights COVID-19's impact on tech's use within the property sphere.  
So, what will the next 4 weeks look like for Nationwide? As we've heard from previous speakers, volume is by no means slowing down. Nationwide's remortgage numbers remain steady, says Rob, with applications still coming in. Looking at real-estate portals like Rightmove and Zoopla, one can see that properties are still going on the market. As Amy Bell noted in our previous webinar, virtual viewings are being carried out by estate agents. Completions, however, will start to drop. Nationwide, says Rob, have been careful not to overreact. Fundamental changes to lending criteria have not yet been made, aside from sensible changes to affordability (with many UK workers being furloughed). Reiterating Amy Bell's observation from our previous Webinar, Rob believes the freeze on the property market could, in fact, lead to a spike within the next 6 months if the economy maintains.  
To conclude, Rob makes it clear that technology is key in keeping Nationwide's approach as efficient and risk based as possible in the current climate and that the digitalisation of day-to-day processes enables an organisation to function effectively while keeping colleagues and consumers connected.  
Interested to know how law firms are coping with COVID-19? Watch our webinar with Mishcon de Reya LLP to hear how they went about moving 1000 people to remote working.